Purpose
The Healthy Church Survey is designed to provide a comprehensive analysis of the church's health. Often the first concern of church leaders is to identify how well they are doing. They need some quick mechanism to create a kind of report card to help them identify areas that need improvement. The Healthy Church Survey is used to explore the characteristics, values, attitudes and lifestyle choices of your congregation as they relate to your community (perspective) identifying the perceptions of your church participants in all key areas of your ministry.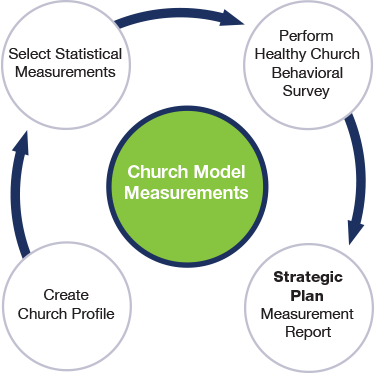 ---
Features
Succinct Healthy Church Survey
A succinct church health survey is used to identify both the perceptions, and personal and collective behaviors required to achieve high quality results in the 6 specific New Testament purposes.
Simple Data Entry Process
The Healthy Church Survey can be conducted using our comprehensive online process using email addresses to control the validity of the results or a paper survey to facilitate those members of your congregation that can not access a computer.
Extensive Cross-Referencing Reports
Healthy Church printed reports contain calculated data, extensive cross-referencing, comparative analysis with other churches and detailed graphs.
Strategic Plan Data Export
Although the Healthy Church Survey can be used independently with its own complete set of reports, the results of the Healthy Church Survey can be exported and used to help assess your annual ministry strategic plan.
Online Church Health Booklet
A special online church health booklet focuses on the 6 widely identified New Testament purposes of healthy churches.
---
Key Benefit
Understanding Ministry-Shaping Cultural Characteristics
The Healthy Church assists you to discover what your adherents do and don't do (behaviors) so you can understand your church and its relationship to the cultural characteristics that shape your ministry.